Society is increasingly data-driven with complex decisions being made based on spatial data representing real-world objects and phenomena. Advances in technology make spatial data more affordable, timely, and accurate, and allow for new players to contribute to still more comprehensive data collections. Data from many sources is integrated and analyzed using complex algorithms as basis for decisions e.g. about land rights with great influence on society and people. Good data fit for purpose is a prerequisite for good and accepted decisions. Implementing spatial data infrastructure using a digital platform business model allows for handling of authoritative and trusted data originating from different sources.
Land rights are included in the targets of the UN Sustainable Development goals related to poverty, hunger and equality, and secure land rights is an important pillar in developed economies.
Rules of tenure define how property rights to land are to be allocated within societies. They define how access is granted to rights to use, control, and transfer land, as well as associated responsibilities and restraints. In simple terms, land tenure systems determine who can use what resources for how long, and under what conditions.
Applying rules of tenure to real-world conditions require knowledge about a multitude of real-world objects and phenomena. For practical use in a digital environment such real-world objects and phenomena must be represented by spatial data that supports securing the property rights to land and allows for making informed and transparent decisions regarding societies development.
In a state governed by law, it is government responsibility to ensure that rules of tenure are applied based on data that is fit for purpose. As rules of tenure define legal rights of profound importance to people, spatial data representing the relevant real-world objects and phenomena must be generally accepted as authoritative and trusted.
Spatial data infrastructure is the technology enabled framework dealing with capture, creation, maintenance, management, and utilization of spatial data. Spatial data infrastructure must handle and document authoritative and trusted data in a way that supports its use for legal purposes.
Spatial data infrastructure will increasingly be implemented using a digital platform business model, i.e. as a business based on enabling value-creating interactions between external producers and consumers.
The digital platform provides an open, participative infrastructure for such interactions and sets governance conditions for them. Government must take the role as ecosystem driver for the digital platform for authoritative and trusted data and is as such accountable for the platform business model, the rules and architecture, and the technology platform enabling the digital business.
Four separate, complementary categories of users interact with each other in the digital platform for authoritative and trusted data business ecosystem: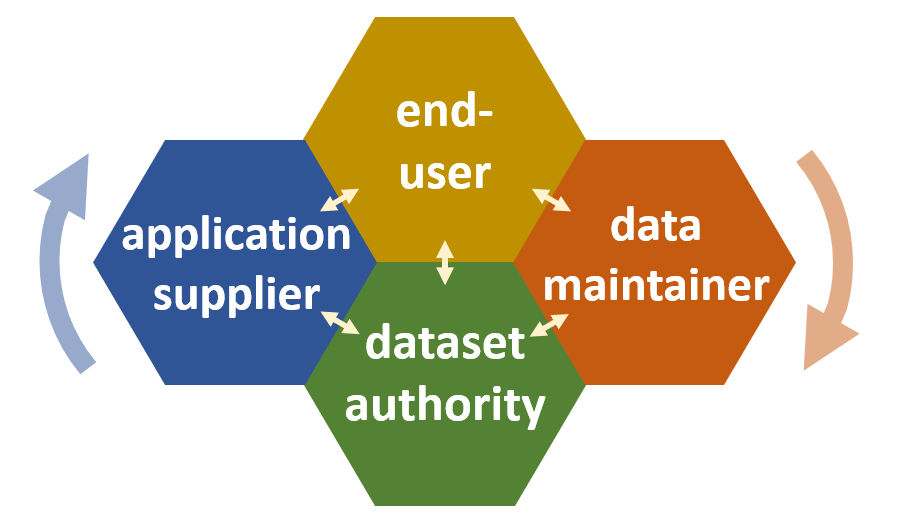 authorities accountable for datasets (government bodies only)
data maintainers (private-sector businesses and government bodies)
application suppliers (private-sector businesses, non-government and government bodies)
end-users (citizens, private-sector businesses, non-government and government bodies)
Maintaining authoritative and trusted data is done by trusted entities operating under rules given by the authority accountable for the dataset to be maintained. Such entities are given authorization to maintain data under professional responsibility and liability.
The digital platform business approach provides strong opportunities for mutually beneficial cooperation between government and private-sector industry involving small and medium size enterprises as authorized data maintainers and as application suppliers offering tools utilizing data to help end-users undertake their task.